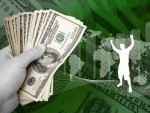 I have been thinking recently about what we can do to be good stewards of our money.  Of course we need to use our money to cover our basic living expenses, but what can we do with the rest of it?  How can we make the most of what we have to help others and make sure that we are giving back?
I think two things are involved.  First, it's important that we manage our money responsibly.  By living within our means and budgeting, we can ensure that we don't go deep into debt.
Second, if we discipline ourselves and spend our money wisely, imagine how much good we can do in our world by contributing to organizations and causes we are passionate about!  And, as a result of giving, we will feel so great, knowing that we have helped to make a difference.
It's important to note that it's not about the amount you give but the attitude in which you give it that really matters.  Not everyone can afford to give a lot or invest a lot due to tight financial circumstances, but that doesn't mean they can't give anything.
Although it would be great to be rich and be able to donate millions to various charities, etc., sometimes I need to remind myself that I don't have to be "wealthy" to make a difference.  We can all be good stewards of our money and if we all focus on good stewardship, our world will be a better place for everyone.  My goal for the next few weeks is to look for meaningful ways that I can give back.