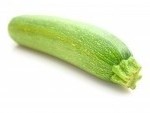 A friend of ours recently gave us a giant zucchini.  I don't have a lot of experience with zucchini, as I never buy it or grow it in my garden, but I didn't want to waste it, and I know that zucchinis are great for using in all kinds of baking.  So I found all sorts of different recipes online and printed them off, determined to try at least a few of them.
The following Saturday I spent a good chunk of my day baking and cooking with, you guessed it, zucchini.  I found a great recipe for Zucchini Chocolate Chip Muffins from www.allrecipes.com and I made three dozen of them.  I then made a delicious Zucchini Loaf from a recipe I found on www.canadianliving.com.  I added chocolate chips to the loaf recipe to make it even better.  I am all about adding chocolate to almost everything I bake.

After realizing just how much zucchini I had to work with, I decided to make Chocolate Zucchini Cookies as well.  I ended up making eight dozen of them, and I added chocolate chips to the recipe to make them even better.  I found this recipe on www.allrecipes.com as well.
In addition to the baking, I also made a stir-fry with chopped zucchini, and finally we tried barbecued zucchini by making kebabs.  I was pleasantly surprised at how great zucchini tasted in everything I made.  It just goes to show that you can find virtually any recipe that you need online for free.  And it also was a lot of fun to make some foods I had never tried to make before.
I have one regret, though. I had found this delicious looking recipe to make Parmesan Encrusted Zucchini, an appetizer of sorts, but I ran out of energy (and zucchini) before I could get to it.  I found this recipe on www.KalynsKitchen.com.  You may want to try it so I thought I would include the link to the recipe.
So, whenever a friend or family member gives you some random vegetables, be sure to get creative and check out recipes online and then get to work.  It's fun, but it's also a great way to make good use of what has been given to you.