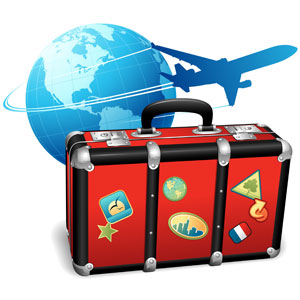 Did you know that you can make money by actually traveling around the world? With all the technology out there, you are able to go from place to place, get paid for your time, and get free vacations. This is something that you won't get if you had to work at a regular 9-5 day job. It is because of this that I highly recommend this to people who like to travel and want free vacations.
So, how do you go about making money as a travel writer? Well, there are a couple of ways that you can do this but for most people they like to get paid prior to traveling. If that is how you want to proceed, then that is fine but you will have to find somebody that is willing to pay for your vacation and that is the tough part. What you will see below are some of the best ways to make money as a travel writer.

Ways To Make Money As A Travel Writer
Affiliate Marketing From Blog – One of my favorite ways to make money as a travel writer is to go someplace and then talk about it on a blog. The reason I like this is because you can then link to affiliate offers in that city. For example, if you are reviewing the hotel that you stayed at, then you can put in an affiliate link to that hotel and get paid when people book a night there. This is how simple it is and the best part is that you can get paid long after you come back from your trip.
Paid To Travel – Getting paid to take a trip and then sign over all your findings, pictures and other stuff to a client is great if you want to ensure you get paid. This is something that a lot of people do in order to start out their vacation websites. If you can find people to pay you once you come back for all the pictures that you took, your review of the hotels, restaurants, taxis and everything else then allows you to take a vacation for free.  Not bad!
Sponsored Trips – The last thing is getting a sponsored trip. These are much harder to find because this requires a client to pay for your trip before you even take it. I really like these but just know that you won't find a lot of people who will sponsor your trip the very first time they work with you.
If you want to make the most money possible, then you will need to do most of your work online. By this I am talking about sending pictures over the Internet, writing for a website, giving personal stories and anything else that you can think of that a tourist may want to know. By giving more and telling the entire story you will be able to charge more for what you do and get more clients to pay for your trips. Just think, a little bit of work and you will get more vacations in one year than you ever thought possible.