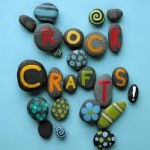 Do you know how to make anything by hand? Do you enjoy making different crafts? If so, then you should think about making crafts and selling them for money. The reason this works pretty well is because you won't have a huge expense list to worry about and you can work as much or as little as you want.
There are a lot of things that you can make in order to earn a living through crafts. My advice is that you don't start selling your crafts until you have perfected them. If you start selling these too early and there are problems with them or they are not as nice as they could be, then you won't get as many repeat sales and the word of mouth marketing won't be nearly as effective. It is because of this that I would recommend that you take your time in finding the perfect craft to make and then practice doing it over and over again. Not only will this make you a better artist, it will also give you a small amount of items to start selling once you begin advertising.

Where can I sell my crafts?
Craft Fairs – The best place to sell crafts is at a craft fair. The reason why I say this is the best place is because you will already have a lot of people going to them and now all you have to do is get some of those people to buy your stuff. This is not very difficult to do if you have a great product that is priced right.  Make sure that you offer a product that is unique and priced appropriately.
Craigslist – Another good place is to sell items on Craigslist. People don't do this as often because they think they won't sell much, however, most of the time this is an automatic sale. All you need to do is create a craft that you know people will buy and then list it. Make sure you add some pictures and then price it where you know people will buy and I assure you that you will make a good amount of sales pretty quickly.
Etsy – The website that I like the best when selling crafts is Etsy. Etsy is a very big website that gets a lot of traffic per day, so the odds of you selling your crafts is pretty good. Just know that with Etsy it is not free, so you will have to pay a little bit based on your profit, but it is not much so you should not have to worry about that. Just keep in mind that with websites you should always have a picture and if you have a website then link back to the items there as well.
If you want to make the most money, then I suggest that you utilize all these places. Most people think that just going to a craft fair will work but the problem is that you won't make enough to make it worth your time. Just keep in mind that the more places people can see your items the more money you are going to make.