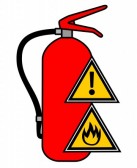 Home is where the heart is and you sure don't want your home to go up in flames because you didn't take the proper precautions to protect your home from a fire.   Although it will cost you some time and money to make your home safe, it is well worth it.  Think about all the expenses you would face if your house burned down, not to mention the potential dangers to yourself and your loved ones.  Why not choose option one and make your home safe?  Here are some ways you can do just that:
Install an Alarm System
A great way to protect your home in case of fire is to invest in a wireless fire alarm system.   You can check out a variety of wireless alarm systems by checking out http://www.sdfirealarms.co.uk/fire-protection/radio-wireless-fire-alarms.html.
Buy Fire Extinguishers
You can buy small sized fire extinguishers that you can put in a few key places in your home including your kitchen, garage, and maybe in an upstairs room if you have two storeys.  They are not very expensive and can be purchased at any major hardware store.  Most of them also come with a mounting device to allow you to attach the fire extinguisher to a counter, etc.  Make sure that everyone in your home knows where each one is located and be sure to show everyone how they work as well.

Store Flammable Items Safely
Make sure you pay attention to warnings on various chemicals and other items around your home.  Follow the prescribed storage instructions as you don't want something to suddenly explode or burst into flame in your home.
Teach Your Children Fire Safety
This may be a no-brainer but sometimes children can cause house fires due to lack of understanding and respect for what a fire can do.  Playing with matches and encouraging your children when they express the desire to play with fire is definitely not wise.  Make sure you keep matches and lighters out of the reach of children and make sure you teach your children what the consequences of playing with fire can be.
Make A Fire Plan
In the event that your house ever does start on fire, be sure that you and your family have an official fire safety plan in place.  Just like employees have to follow special instructions when they have practice fire drills, so too should your family.  Make sure even your youngest children would know what to do in the event of a fire.  Don't scare your kids, but make sure they are aware.
These are just a few ways you can make your home safer.  As you can see, it is worth the extra time and cost to prevent what could otherwise turn out to be a tragedy.