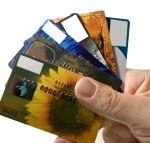 There might have been an occasion when you had applied for a credit card, but your request was declined despite the fact that you have a good credit history. Did you just sit back and wonder why your request was rejected or did you take any concrete steps to find out exactly why it happened?
Most of you do not ever think of talking to the bank authorities to find out why your application was not considered. Usually, most of the rejected cases were based on only what the computer thought of your credit worthiness. The computer is not well equipped to consider all the complex factors. So it is a wise move to consult bank authorities personally and present them with a valid proof of your flawless credit history. Credit cards can be used wisely to save money. So get a credit card now and start saving.
Credit cards are actually very important financial instruments. Managing them deftly is like a game. Those who fail to use their credit cards responsibly would end up accumulating loads of debt, but if you use the credit cards safely and cleverly, you could stay out of debt and at the same time get fantastic value for the cards.

Here are a few smart tips for saving money using credit cards:
Using Two Credit Cards is a Good Idea
You should have two credit cards if you want to take full advantage of the rewards. You should always opt for credit cards that charge a lower credit card processing fee. The rewards card used for indulging in your day to day expenses would be paid off in full every month and a second credit card having the lowest interest rate would be there for covering any emergency costs when you would not be capable of paying off the full balance by the month end.
Using Gift Cards Wisely is Quite Fruitful
Reward cards usually come with numerous attractive choices that might trick you and fool you and you may end of spending more money. Some of these reward cards offer only a sign-up bonus once you have ended up spending a specified amount, while other reward cards would offer special rewards for specific transactions at specified categories of merchants. Many of you indulge in impulsive buying to fulfill this criterion.
Instead you could consider using gift card purchases in a far creative manner. If you wish to achieve the specified minimum spending threshold in order to get a signup bonus, you could use your credit card for purchasing gift cards for all those merchants you are used to visiting frequently. You simply need to buy before the deadline and then you may use the gift card sometime later.
Maximizing Your Statement Cycle Proves Beneficial
If you were making timely and full balance payments, you could end up receiving a free loan from your bank. This is indeed the best way of using your credit cards to your advantage. You could also, opt for a really smart strategy.
Are you aware of the fact that if a charge is done the day before the statement actually closes it would be due around 20 to 25 days later? But in case the charge is done the day after the statement actually closes, then you get another extra thirty days for paying it without incurring any interest. This implies that by doing this slight adjustment you could get up to 55 days interest-free.
Bonus Bumping Always Works
More often than not, you face a situation when you have applied for a credit card and then realized that there was another sign-up bonus offer available that would in fact, be a much better deal. You could call the bank without any hesitation and request them to apply the better offer to your account. The bank would be logging into their website and sending you a secure message just for safety sake. This enables you to get the bank's written response. This should rule out any disputes and complications over the number of points you should actually receive.
About The Author
Rob Bismarck is a financial advisor and debt relief officer who has been working tirelessly to get his clients better debt terms or a lower credit card processing fee. He has recently taken to blogging too.