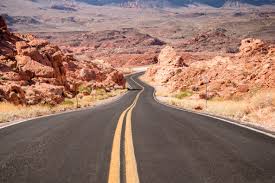 My husband and I have had some amazing experiences while on the road.  Flying gets you to your destination faster, but road trips allow you to see and experience a lot of neat things while en route, which can make your trip more memorable and exciting.
There are lots of ways you can save money while on the road.  Below are just a few tips:

Grocery Shop
Eating out for every meal not only costs a lot of money, it also can take extra time as you need to be able to locate a restaurant, and then wait for the food.  We saved a lot of money by grocery shopping along the way and then preparing our own meals most of the time.  That way we were always able to eat healthy and we could eat whenever we were hungry rather than having to wait until we reached the next city or town.  We used a cooler to keep our food from going bad and we brought along our trusty Coleman stove so we could cook practically anything we felt like eating.
Roadside Assistance Discounts
Having a reliable roadside assistance provider is always a good idea when you set out on the road.  You never know what could happen, and it's wise to be prepared.  Think of it as a sort of necessary insurance that provides you with peace of mind.  You save money by signing up too because many roadside assistance programs offer various perks and travel discounts such as cheaper hotel rates, etc. for being a member.
Camp
Instead of staying in a hotel each night you are on the road, opt for camping instead.  Either tent or bring along a small trailer (not too big or you'll end up paying way too much money for gasoline).  If there are no campsites near where you are traveling, then you can always park at a Walmart parking lot for the night.  That way you will have access to bathrooms for most (if not all of the night) as many Walmarts are open really late.
Fuel
Watch fuel prices as you drive.  You will notice that some areas have much higher gas prices than others.  When you see a reasonable price, fill up even if you still have half a tank.  Also, drive within the speed limits rather than speeding to ensure greater fuel efficiency.  Avoid idling your vehicle for extended periods, and take advantage of any deals or points systems that a gas station chain may offer.
Taking a road trip is one of the greatest ways to see the countryside.  If you are a nature-lover, then I would highly recommend that it be an item on your bucket list.  The memories that are made are priceless, and as you can see above, road trips can be an affordable way to travel.