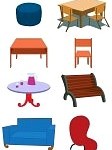 Buying new furniture can be quite expensive. Though renovating your old furniture costs less, it doesn't always result in the cost savings you would expect, and the results are not always so good, resulting in furniture that looks out of place.
Below are some tips that will save you money when buying furniture:
Buy furniture online
Brick and motor stores factor overheads (rent, labor and utilities) into the cost of furniture. Online furniture sellers usually have a warehouse where they store their furniture, which costs less than having a store in a high end location. Some online sellers don't even need warehouses, but instead ship directly from the factory, further lowering the cost you incur on your furniture.

Online shops also have a lot of deals with manufacturers and are therefore capable of giving discounted prices. A good example of an online site that sells furniture at friendly prices is platinum furniture.
Buy from manufacturer warehouse sales
From time to time, manufacturers hold clearance sales to empty their warehouses of old inventory. If you have the patience to look for warehouse sales, you can buy a lot of household furniture on a shoe string budget.
Don't shop by brand name
Unlike clothes, there's actually no need to buy furniture based on the brand name. In a bid to give a piece of furniture an edge over other furniture, a designer might end up creating something that is not very functional. Therefore, even a well-known brand name might not be able to deliver anything that you might like. Since there are so many imitations out there, a designer might not deliver something exceptionally different from other furniture.
Instead of paying too much attention on who created what furniture, shop based on price point, quality, comfort, functionality and taste. Just because a name is not well known doesn't mean that it's a substandard piece of furniture.
Large pieces should be in neutral colors
Do not base your furniture shopping, especially for large furniture pieces, on your taste of color. There are two reasons why you should avoid bold colors:
Manufacturers rarely create large items in bold colors. This means that when they create an item in a bold color, they are taking a risk because there aren't many people who might want to buy in that color. The resulting price tag therefore has to be worth the risk of carrying the item.
You will probably have to change a lot of design aspects in a room to go with the bold color. This will take a lot of money and effort.
Bold colors like orange, red and purple are great, but instead of having them on the main furniture, use them on throws, pillows, rugs, vases, lamps and other décor items.
Neutral colors such as grey, black or brown are not only cheaper, but are also easier to design around and therefore should be the main color of large furniture pieces.
Look for ways to spend less on shipping
Once you buy your furniture, you will need to get it home. Compare different shipping prices to find the lowest total cost of truck hire, driver's fees and gas costs.