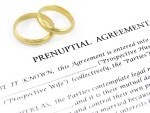 Prenuptial agreements are becoming more and more popular with couples everywhere. In most cases, couples draft and sign prenuptial agreements in order to protect their assets in the event of a divorce in the future. Some still view the idea of a prenuptial agreement as overly materialistic and contrary to the ideas of love and marriage. Others would call those people naive. Whatever your views on this kind of marital contract, if you are considering a prenuptial agreement it is important to know what it can and cannot protect in the event of a divorce from your spouse.
Rights and obligations with regards to property can be outlined in a prenuptial agreement. For example, if either spouse owned one or more homes before marriage, the obligations for maintaining those properties can be restricted to the owner in order to avoid financial burden on the other spouse. Likewise, the prenuptial agreement can protect the rights of ownership to those properties. The option for selling or leasing any properties owned before marriage can be protected and left as the sole right of the original owner. This is an important consideration for property owners and non-owners alike.

Options for spousal support may or may not be protected under a prenuptial agreement. Both parties may decide on agreements for spousal support while drafting a prenuptial agreement, but it can't be said with any certainty that those agreements will be upheld in court. If a divorce results in one spouse going on welfare, for example, the court may require financial support from the other spouse sufficient to dissolve the welfare dependency. Whether or not agreements such as this can protect your assets under a prenuptial agreement will depend on state law.
A prenuptial agreement can, in some ways, protect the sanctity of marriage as an asset itself. A provision in the agreement could state, for example, that if one spouse admits to infidelity, that a cash payment must be made to a particular account held by the other spouse. Faithfulness is one of the vows taken during marriage, and a prenuptial agreement can be used to protect those vows by outlining consequences for adultery.
Child support is one more matter that can't be decided by a prenuptial agreement. Provisions may outline how the couple will raise their children after separation, but any matters of child support will be handled by the court and decided by state laws and guidelines. The prenuptial agreement can, however, state where legal proceedings will be held and under which jurisdiction decisions will be made. Spouses who are familiar with state laws and legal proceedings may make provisions such as this to protect their assets.
In the end, prenuptial agreements are not romantic, but they can be beneficial. There are many nuances of prenuptial agreements that cannot be learned in one day from a single website, so be sure to research this kind of legal agreement as much as possible. You may not want to consider the possibility of your marriage ending one day, but in light of high divorce rates it is always good to know how you can protect your assets in the future.