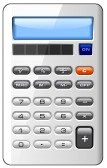 House hunting can be a lot of fun and you may get caught up in the excitement of looking at a variety of homes and dreaming about what your life could be like if you owned one of them. Before you get too excited, though, it is important to do some number crunching to see how much house you can really afford.  Forexample, the Halifax mortgage calculator is worth taking a look at.  It is quick and easy to use and within a couple of minutes you will have a better understanding as to what types of mortgages are available to you.  It will also help you to discover what type of mortgage you want.
Things to pay attention to when using a mortgage calculator:
Fixed or Variable Rate
Remember, not all mortgages are the same.  There are many different types available to suit various needs.  For instance, you may decide you want a fixed rate mortgage so you don't have to worry about interest rate fluctuations.  Alternatively, you may decide a variable rate works better for you because you predict interest rates will be low for a long time.
Length of Term
How long do you want your mortgage for?  Do you want a 5 year term or just a 1 year term because you think you might be selling and moving within a short time of purchasing the home?  A very popular term length is 5 years but people have their reasons for going for shorter terms such as if there is a much better rate for a shorter term, etc.

Length of Amortization
Amortization simply means the length of time you want to take to pay off the mortgage in full.  Some people pay their mortgage off in 25 years, while others are aggressive in many extra payments, and so they end up paying their mortgage off much sooner.
Type of Repayment
In some cases, you also will have the option of paying interest only payments instead of paying down the principal along with the interest.  In most cases I wouldn't recommend just paying the interest as then your mortgage will never be paid off in full.
Once you have figured out which options work best for you, then you are ready to start looking at your various home options.  By doing this prep work in advance, you can be confident that you know what you are moving towards and you will be much more clear headed when you are ready to sign for your mortgage.  Being educated is the key to making sound financial decisions.  Make use of online resources available to you and find the home that is right for you.