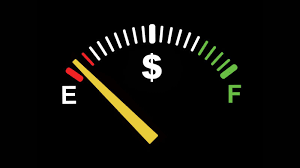 People often talk about how important it is to save money every month. There are dozens upon dozens of blog posts and articles out there telling you ways to put money aside for a rainy day. Now, it's certainly true that saving money is incredibly important. However, that doesn't mean that it's always possible, or even the right choice. Sometimes all that matters is being able to survive financially until the end of each month when payday rolls around. It's certainly not a glamorous or desirable position to be in, but it's one that more and more people are finding themselves faced with as time goes on. Luckily there are always things that you can do to get yourself over that finish line without getting into any serious difficulty. Here are a few things that you can do to stay afloat until the end of the month.

Credit cards
For a lot of people, credit cards bring with them a great deal of anxiety and fear. This is because of all of the horror stories people are told about how someone got themselves into huge amounts of credit card debt that ended up financially crippling them for life. Now, there's no denying that credit cards come with their fair share of risks but, as with most things, it all comes down to how you use them. Make sure that the card you're using is valid using a credit card checker and only ever use it when you absolutely have to. Make sure that you're not using it for things like luxuries or large purchases that you're not going to be able to pay off further down the road. If that happens then not only are you going to end up paying more in interest but it will also have a pretty nasty impact on your credit rating.
Payday loans
Payday loans are something of an iffy concept for a lot of people. People see them as a scam or as a way to take advantage of people who are in a desperate financial situation. Now, there's certainly no denying that there are people out there who are more than willing to do that but, as with credit cards, it all comes down to how you use them. Payday loans can be incredibly useful if you're only using them with both small amounts of money and incredibly short-term borrowing periods. If you just need a little money to tide you over until payday, then these kinds of loans really can be pretty helpful. Just be careful.
Odd jobs
There's a large discussion to be had around the ethics of the "gig economy" when it comes to people who are trying to make their living from it. However, if you're looking for a little extra cash to get you to the end of the month, then the kind of apps that can connect you with odd jobs here and there can be real lifesavers. It allows you to work for some extra money without having to worry too much about the kind of commitment that comes with many other full-time jobs. Just make sure that you're not overworking yourself and that you get a fair wage for any job that you do. There's no sense working overtime if you're going to get ripped off.