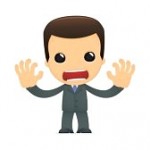 Have you ever thought about what would happen if you lost your job? Would you be able to maintain your existing standard of living, or would you feel the pinch of loss right away?
There are some things you can do now, while you have a job that will help you in the event that you lose your job for some reason. Here goes:
Tuck away at least 20% to 30% of each paycheck. Put these funds into a savings account. A great account to use is the Tax Free Savings Account. Just make sure that you select an investment type that is easily accessible should job loss occur. If you're not good at saving on your own, ask your employer if you can have deductions come directly off your paychecks.

Learn how to live on less. Even though you may be earning enough money to allow you to have a very high standard of living, I recommend that you live under your means to some degree. That way you have some wiggle room if you do lose your job. If you are always used to living as a high roller, then it will be much harder for you to adjust if you end up with more meager means.
Find a way to supplement your primary source of income. If you can, I suggest finding alternate means of earning income to supplement your main source of income. By having more than one income source, if you end up losing your main job, at least you still have some income coming in. Other sources of income can end up being your main or even your sole source of income in the future, so don't discount your opportunities.
Be frugal even if you don't need to be. Some people think it's cool to be frugal, while others don't. Cool or not, I suggest you learn to be frugal even if it's not overly necessary with your current financial situation. By learning how to be frugal now, if you lose your job down the road, it will be easy to continue with your frugal habits rather than having to learn how to be frugal when you're already so stressed about your finances.
These are just a few simple yet very important steps you can take now to prepare for a potential job loss. You may think you have the most secure job in the world, but truthfully, no job is actually completely secure. You never know what the economy will do, and there are many factors that can disrupt the norm. It never hurts to be prepared for the worst but to expect the best.