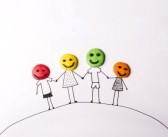 Everyone has their opinion on what you should and shouldn't share with your children about your family's financial situation.  Some say you should be really honest and if your family is struggling financially, then the kids should be made aware of it.  Others say that you shouldn't tell your kids anything at all as it's not their problem.
I would venture to say that neither approach is healthy.  If a child is in a family that is currently experiencing financial difficulties, it's a good idea for them to be kept in the loop to a certain degree, but certainly not to the extent that they feel burdened and pressured to find a job to help support the family.
I can say this from experience.  When I was growing up, my mother was a single parent for most of my formative years.  We lived on an extremely tight budget, and while I was aware that things were tight, I was never led to believe that we were going to go hungry or become homeless.  My mother never told me that we were in trouble, even if we might have been.

I was aware enough of our situation to not ask for too much, but I never felt stressed out about our financial situation.  My mother did an amazing job of keeping us afloat without creating stress for me or my siblings.  In fact, I never even fully appreciated the difficulty of our situation until well after I had moved away from home.
So, it is possible for families in financial distress to keep it together and not stress out their children.  Kids have to grow up soon enough.  They should not have to bear any major financial stress as children.  While I think it is important that kids realize that their parents cannot afford to buy them everything they desire, I think it is equally important for children to know that their parents can and will provide for their needs.