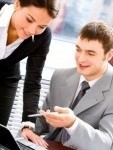 I read an interesting article on the Globe and Mail website recently that indicated that one third of young Canadian couples (aged 18 to 35) keep separate bank accounts, and that only one in ten couples share all their accounts.
This may be a bit surprising, except for the fact that many of the couples that were polled were not necessarily already married.  I think it's important for couples to be on the same page with their finances, although I can understand why some couples choose not to keep everything joint.

When my husband and I got married, we joined all of our bank accounts right away. For us it just made sense because we both manage our money the same way.  We save a lot of money and neither of us brought a lot of debt into our marriage.  We really didn't have a good reason to keep anything separate, and we have had a good experience sharing our finances.  Although I take care of most of the banking, my husband is always aware of where our money is going and how much we have in our emergency fund.  We use a Quicken program so it's easy to keep track of our finances.
I definitely recommend partnering together when it comes to tackling your finances. There are some couples that feel the need to keep separate accounts due to different spending habits or debt obligations that they feel personally responsible for, If you do keep things separate, it's important to be honest and open with your spouse so they are aware of your financial situation.  You don't want any nasty surprises that could cause issues in the relationship down the road.
Whether you keep your accounts joint or separate, the most important thing is to do what you both feel is most comfortable and effective. If you know you have spending issues, it might be wise to let your spouse do most of the money management for your family from a separate account that you don't have access to.   Be willing to communicate regularly with your spouse about your finances and don't let money become a taboo subject in your home.
Like every other aspect of marriage, your finances require a team effort.  It may be a bit of a struggle to figure out what works best, but if you keep the communication lines open you will be sure to find the strategy that works best for you and your spouse.