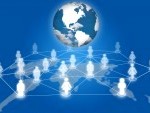 LinkedIn has a membership of more than 277 million people. So while you may want to be a part of the gigantic network, you also don't want the crowd to swallow you up into oblivion.
Hopefully, by now you've already created an impressive profile on LinkedIn—one that helps you stand out. This will be your foundation to help you get the job you have been dreaming of.
The fact is that 94% of recruiters use social media, particularly LinkedIn when looking for new talent, making it a powerful resource for professional networking. This alone should get you excited. Here's how you can leverage this game-changing tool to get your first job after graduating.
Know where LinkedIn "fits in."
For you to use LinkedIn well, understand how it fits into the grand context of social media networking. Facebook focuses on brand and identity, be it a business page or a personal profile. Twitter is interested in events: Your latest blog posts, status of a missing plane in the Indian Ocean. LinkedIn on the other hand is an avenue for engaging with people and companies that may be your potential employers.

According to a recent survey, more than 77% of LinkedIn users said it helped them research companies and people. This could be a useful way to prepare for a formal job interview. It helps you ask the right questions in addition to having points over which you can bond with your interviewers.
Make use of the search function.
More than 5 billion searches were carried outon LinkedIn last year; the social network is a high-power search engine. Get started by going to the search bar on top. When you type in a search term such as "entry level research analyst investment banking," you will get a list of related positions, groups and people in similar positions.
Use the dropdown menu next to the search bar to customize your search by jobs, people, groups, companies, and inbox. By clicking "jobs," you can further focus your search by connections, location, job function, industry, and level of experience. Moreover, LinkedIn's intelligent search will note your preferences over time.
Create experiences worth sharing.
To increase your "findability" on LinkedIn, you need to stand out and be perceived as a competent professional in your field, someone well versed and employable. To achieve this, share your experience and expertise and speak up above the noise.
In this era of ever-present social media, everyone is sharing and collecting experiences. When people experience something special they instinctively want to record and share it. Examples of experiences worth sharing include attendance at important events and conferences, opportunities to provide feedback or expertise, and interaction with leadingindustry folks.
Connect and grow your network.
Everyone you meet may end up being someone you work for, recruit, advise or refer. This is where the magic of LinkedIn lives; it's a formidable live global network of mentors, business opportunities and job leads. So, connect! And make it personal. Establish and build relationships at every opportunity. Make a memorable impression.