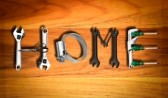 It's practically impossible for most homebuyers to get everything they want in an existing structure, but most of us have a list of priorities and must-haves, and so long as most of them are met we suck it up and take the house that comes closest to fulfilling our dreams. Luckily, there is a way to get closer to the home you want without going through the hassle and expense of buying land and building your structure from the ground up.
When you opt to renovate you can turn an old layout into a modern, open floor plan. You can get a gourmet kitchen or a spa-like master bath. And you can transform any badly-planned or executed space into a beautiful and functional room that meets your every need. However, you need to be careful when you opt to renovate; if you don't pay attention the costs can quickly skyrocket. Here are a few of the main factors that will influence your expenses when you renovate your home.
Scope of work. The size and type of job you do will have a major impact on the associated costs of the project. For example, completely gutting your kitchen; expanding the space, moving the plumbing, and replacing cabinets, counters, fixtures, and appliances; is going to cost a lot more than simply making cosmetic changes like refacing the cabinetry and installing a new backsplash. Since the average person knows very little about the costs involved in remodeling, your best bet to get an idea of the projected costs of your planned renovations is to get bids from several contractors and ask about alternative options to get what you want while lowering costs.
Materials. The costs of any renovation can be broken down into two main areas: materials and labor. And the nice thing about materials is that they entail a fixed cost. As soon as you know what materials you need for your project you can calculate the exact costs. Of course, materials will include more than the hardwood or tile flooring you choose or the cabinets you purchase. You'll also have to pay for hidden items like pipes for plumbing, adhesive for tiles, concrete, nails, and so on, costs you might not anticipate if you've never done renovations before. But your contractor should be able to give you a breakdown of all materials and their related expense.
Labor. The cost of labor may be a bit harder to calculate simply because the time it will take to renovate is only an estimate. The best thing you can do is settle on a fixed price for labor based on the estimated timeline your contractor provides and then get it in writing. There will likely be some kind of stipulation for possible overages that are no fault of your contractor, but you'll at least have a ballpark figure to go on and it should help to hold your contractor to a set deadline
Practices. If you're interested in special practices during renovation, such as eco-conscious building or restoration of an older home, you're probably going to have to hire specialists who understand the processes entailed in such projects. And this could end up costing you more than your run-of-the-mill contractors. Materials may also end up costing more, depending on what you want done.
Delays. Even if you have your renewal design-build planned down to the last detail, you can't control everything. You may face unexpected delays due to weather, late delivery of materials, or issues behind the walls that you didn't know about. Or you might have so many home renovation ideas that you keep changing your mind. All of these factors can up the price for your home improvement project, so you should plan for delays if you want to avoid going over your budget.