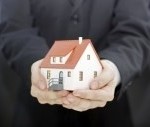 Buying extra life insurance that is attached to your mortgage may be a good idea for some folks; however, there are a few things you should consider before making your decision.
1. Do you already have life insurance?  You may already have adequate life insurance through your work or another company.  If you already have enough to cover all expenses plus your mortgage, then you have no need for additional insurance.  However, if you dig up your paperwork and discover that you don't have enough to cover all anticipated expenses plus your mortgage, you may very well benefit from buying mortgage life insurance.

2. Make sure you understand how the insurance works.  Before agreeing to enter into any insurance agreement, be sure that you are aware of all the limitations, exclusions, and conditions.  The downside of mortgage life insurance is that the premiums do not decrease as the balance of your mortgage decreases.  So, in effect, you are paying for something that will continuously decrease in value.  Even though you may only owe $10,000 on your mortgage, you will still pay the higher premiums as when you had a mortgage balance that was much greater.
3. Don't be afraid to ask questions.  Find out how much it will cost you over time and compare it with what you are currently paying for life insurance.  Ask if there are any repercussions for canceling the insurance and make sure you know how to cancel it should you wish to do so.  Also, don't get sucked into buying it at the beginning if you really don't want it.  Many times lenders will tell you it's easy to cancel it, but how many people actually remember to cancel it?
4.  What is your current situation?   Are you single with no dependents? Married with four kids?  Your stage in life will determine how much insurance you need.  Do not buy more insurance than you need, and on the flip side, do not cheap out on insurance, either.  Make sure that your loved ones are well cared for if something were to happen to you.  You don't want to leave a heavy burden of debt as your legacy.
5.  Choose the insurance that best suits your needs.  Many lenders also offer mortgage disability insurance in addition to mortgage life insurance.  Depending on your current circumstances, this type of insurance may also be appropriate.  The key is to choose the insurance that fits your current situation and then to be proactive and make changes as your life changes.  It is up to you to make good choices to protect your family and to have peace of mind, but remember, there are many insurance products out there and you need to do your research to determine the best ones for you.