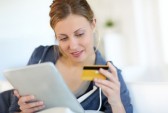 Everyone knows that the Internet can be a dangerous place when you are shopping online. No matter if a particular shopping cart says that it is secure, it could be a scammer trying to take your hard earned money. In fact, statistics say that 14% of all transactions end up costing somebody their money or their identity. However, most of the time, if you take the right precautions, shopping online can be as safe and secure as shopping at a local retailer.
Here are 5 tips for playing it safe when you shop online:
If you feel like a site might be a little suspicious, pay with your credit card and not your debit card. With your debit card a thief can empty out your entire checking account. A bank might give you part of the money back, but because it is essentially cash you can possibly lose a lot of it; this can be extremely unfortunate if you have a lot of money in your account. With credit, you can usually report it as fraud and not have to pay that portion of the bill when your statement comes at the end of the month.
Make sure that the website is a secure shopping site. There are a number of ways to find out if a site or the site's payment gateway is secure. For one, there might be a little lock at the bottom of the screen that connotes that the site is secure. There might also be a symbol in the URL bar that will ensure that the site is secure and won't record any of your personal information for later use.

Shop at home and not in public. You might think this is an obvious one, but a lot of people shop on public computers, whether at the library or at an Internet café. This can make you hugely susceptible to online fraud. All a fraudster has to do is hit the 'back' button a few times to find all of your credit card information. If they find your social security number, you could risk getting your identity stolen.
Trust your instincts. If a site doesn't look secure you probably shouldn't give them your credit card information. There are a number of ways to tell if a site is fishy, like an obscure URL, bad product photography and lots of spelling mistakes. If it were a legitimate seller, they would want to make everything look in order. Anyone can create an online store at BigCommerce.com and some of them might be legitimate, but some might just be fronts to steal your money.
Lastly, never store your information. Thieves these days can easily access computers and email accounts remotely. If you have any information saved or stored anywhere on your computer, it could be lifted by online pirates or thieves. In this case it is best to erase any saved passwords or information in your preferences. To be as safe as possible, you generally don't want to leave a financial trace.