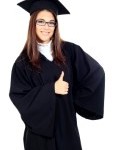 Students usually have to live on a tight budget as most of their time is spent studying rather than working and earning an income.  As a result, it is important that students take advantage of the savings that is available to them.  Below are just a few ways that students can save.
1. Save big on your banking.  Most financial institutions provide free banking to university and college students.  All you need to do is provide proof of enrollment and you shouldn't have to pay monthly fees or transaction fees on your bank account.  This perk can result in significant savings for you, especially if you do a lot of banking transactions each month.  Remember to provide proof of enrolment every year to your bank; otherwise you will end up with fees after the year has passed.  Most financial institutions won't remind you, so be sure to mark your calendars to avoid fees.

2. Save big on transportation costs.  Students can usually buy public transportation passes for a reduced price, which can result in extra pocket money for other expenses.  Although you won't get a discount on gasoline if you are a student, it's good to know that if you take a bus you will reap the rewards of being a student.
3. Save big using student benefits.  Most post secondary institutions offer a student benefits package that will allow you to save big when you visit a dentist, chiropractor, buy prescription drugs, etc.  These benefits are usually offered at reduced costs to students and are often well worth taking advantage of.  Because you are so young, the benefits are offered at very reasonable rates.  Make sure you actually use them, too. Take the time to get your teeth cleaned, get a massage, etc.  Carry your benefits information in your wallet so you always have it handy when filling prescriptions, etc.
4. Save big with your student discount card.  As a student you should be able to get a student discount card that will save you money at various retail outlets, restaurants, etc.  The biggest thing is just to remember to use it.  Carry it in your wallet or purse so you take advantage of it whenever possible.  Be sure you become familiar with what perks are available to you so that when you go to those restaurants and stores you are not paying full price unnecessarily.
5.  Save big by taking advantage of low interest rate debt.  If you require extra funding to cover tuition, books, and room and board, you have a lot of options as a student.  Many financial institutions provide better interest rates on credit lines used for education, so be sure to shop around and take advantage of the best option for you.  It's a good idea to compare features and rates of various lending products and see if they are more advantageous than your provincial/territorial or federal student loans.  Be sure you understand what your responsibilities are for each before making a decision.