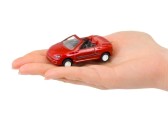 Legally, you are required to have auto insurance. However, most of us don't have perfect driving records or credit, which leaves us wondering how to save money on our insurance policies. Luckily, there are a number of ways to not let your policy take too much of a hit on your wallet. However, it is important to remember that auto insurance comes in many shades and varieties. For instance, you could get full coverage and the lowest deductible possible, or you could opt for a more bare bones policy that covers the other driver, but not the cosmetic damages on your vehicle. Obviously, the more coverage you get, the more expensive your policy will be. Here are five ways to save money on new car insurance.
Get a mileage discount. No matter if you are looking for Alabama car insurance or California car insurance, a mileage discount can really help to get your costs down. If you only drive to and from work – or even if you only drive on a certain day of the week – you can get a significant discount on your policy. The reason for this is simple: the less you drive, the less of a liability you are on the road, thus your insurance policy will be more affordable.

Clear all your traffic tickets and violations. The more traffic violations you have, the higher your policy is going to be. If you want to save money, you want to make sure that you find a way to clear all those tickets from your name. You may have to set up an arrangement with a judge or speak with a lawyer about removing or expunging the tickets. The same goes if you have any points on your license.
Sign up for a higher deductible. A higher deductible simply means that you pay more out of pocket costs in the event of an auto collision. Usually, these out of pocket expenses go towards repairing damages to your vehicle and other cosmetic damages. So, in most cases, you can stand to waive that coverage, because it may just save you a lot of money. Before you do, however, you want to consider your options carefully. If your vehicle is integral to your livelihood, you may not want to increase your deductible.
Ask about discounts. There is also a good chance that you can get a discount for being a new customer. A lot of insurance companies will grant discounts in order to attract new customers. Most of the time, these companies won't necessarily advertise these discounts, so you must ask. When you are speaking with a representative, you can ask for a discount, but you could also negotiate for a few more points off.
Make sure that your vehicle is protected against theft. The more secure your vehicle is against theft, the lower the risk for a liability your vehicle will be. Moreover, the lower the risk, the more affordable your policy will be. So, you may want to equip your vehicle with a new theft deterrent system, because it may actually help you save money.