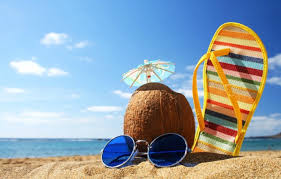 A holiday is a time to kick back, relax, enjoy the sun, and blow off some steam so the last thing you want is a big debt cloud hanging over your head. Luckily there are a few simple ways to save yourself a lot of money on your summer holiday this year. Unfortunately, there is no magic bullet, but here are a few of our top ways to keep the costs down, even during school holidays:

1. Look around for the best currency exchange deals
You look around for the best hotel deals so why not shop for the best exchange rates too? This is an easy and effective way to stash some extra cash before you've even departed. Always look for happy hours from an online exchange, which offer better rates for a brief amount of time and NEVER exchange your money at the airport. You'll find that most currency rates are now almost equal to the pound!
 2. Book holidays late
There are plenty of websites offering last minute deals and if you're not picky about your destination, then waiting right up until the last moment to book your holiday could see you get the top resorts for a fraction of the price. BUT make sure you look for comparison sites that scour travel agents as they compile the bargains for you.
3.Make the most of your hand luggage
People always seem to neglect just how much hand luggage you are able to take with you on a flight. If possible, you should try flying without any extra luggage at all, or if not then make sure you make the most of your hand luggage to avoid paying any extra fees at check in.
4.Fly at unsociable hours
Often, you can knock a decent amount off your flights by choosing to fly at the hours when most people are tucked up in bed.
5.Get an EHIC
If you're travelling to Europe you may have a way to get around buying travel insurance. The European Health Insurance Card, this is for EU citizens travelling to other EU countries to have free healthcare in the country they're travelling to. To see if you're eligible for the EHIC click here to find out more!
6.Travel midweek
Midweek travel is almost always cheaper than a weekend departure. It's also much more pleasant because airports and ferry ports are quieter. This sort of timing works better for hotel-based holidays because most self-catering accommodation is rented out from Saturday to Sunday. BUT if you look carefully, you can normally find some exceptions.
7.Ask locals for recommendations
 If you book a holiday in a tourist hotspot, the restaurants and bars around the area are more than likely going to charge extortionate prices. Try asking local residents for recommendations, and you might find that aside from location a cheap spot, you might also uncover a hidden gem.