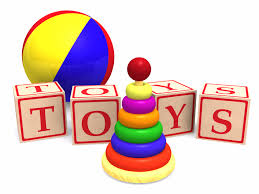 Children's toys can cost a fortune. This is something every parent knows. So how can you reduce the amount of money you spend on toys?
Here are 9 tips to save money on children's toys:
1. Don't buy as many toys
This might sound like an obvious suggestion. The truth is that kids will get over toys quicker if they have too much of a variety to choose from.
So look at limiting the toys you buy and focus on the ones you think your child is more likely to play with. This will save you a lot of money in the long run.
2. Quality over quantity
Cheap toys break quickly. They are made from inferior parts and need replacing more often. How many times are you willing to replace that favourite toy that suddenly broke because it wasn't particularly well made? Why not invest in something that will last longer instead? Wooden blocks, Legos, and other toys that require imagination may cost a little more at the outset, but will save you money in the long run.
3. Gently used toys
The good thing about quality toys is that they often outlive their use for the child that they were originally purchased for. Why not look at pre-loved, gently used toys for your children? Facebook Buy & Sell groups, eBay, thrift stores in your local area, all of these have pre-loved toys that your children will get hours of enjoyment out of. These toys can be found at a reduced price since there gently used.
4. Clearance sales
It may seem crazy to start looking at presents for next year as soon as Christmas is over, but this is when you can find some of the best deals. And if you're looking at quality rather than quantity, those toys will still be appropriate a year from now. And don't forget there are likely a slew of birthdays for your children and their friends between now and then that those knock down toys will come in handy for. Perennial favourites like Legos are often on sale in Target and Walmart straight after Christmas.
5. Borrow or trade
Babies and toddlers in particular tend to go through toys quickly. Rattles, walkers, and other toys are often used for a short period before becoming boring and no longer developmentally appropriate. If you have friend or family with children who are a little older, you may find that they are willing to let you borrow the toys their children have outgrown, especially if they are planning on having more children and will likely need to use them again.
Trading or swapping toys can be done with friends who have children at a similar age to yours. This is particularly useful during the winter months when children can't get outside as much and are getting bored with their existing toys and starting to climb the walls.
6. Couponing
When shopping online for products, almost all products will have an applicable coupon that can be applied to take money off of the order total. Sites like Mamma.com allow users to search for discount codes on their favorite brands. It can save you a lot of money to get into the habit of looking for a coupon before buying anything online.
7. Discounted gift cards
Sites like Cardpool can often save you money on gift cards. It can take some planning, but you can often save on Toys R Us, Build a Bear and American Girl Gift Cards with discounts ranging between 7 and 21% off. Buy the cards before you go to the store and you can save on the overall cost of the toy store purchases, and if you find coupon codes to go with the purchases, even more money can be saved.
8. Look for sales
In the run up to the Holiday season, department stores will tend to run big sales on toys. Take a look at the Black Friday sales in particular if shopping in a bricks and mortar store. Sites like Amazon often run toy sales throughout the year on various brands, so keep an eye out for those too. Amazon's Black Friday sales tend to last a week, with specific items being discounted at specific times. So don't forget to keep an eye out. I purchased a Lego for my son last year for a discount of 75% during an Amazon flash sale.
9. Cash Back Programs
There are a number of websites out there that will offer you money back on your online purchases if you go through the links on their site to the online store you want to shop at. If you want to have a wider range of stores to get the cash back from, you are best off being a member of a few different sites as it increases your chances of getting the cash back. Cash back sites include Ebates, Top Cash Back, Swagbucks and My Points.
So there you have it. Nine actionable tips to help save you money when toy shopping for your kids!