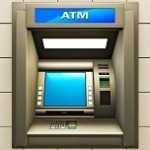 Interested in learning an easy way to save a bit of extra cash each month?  Break your habit of using other bank's ATMs and use your own bank's instead.  If you are someone who likes to take out cash every payday, rather than going to the nearest ATM, why not look for one that you can use for free?
So many people pay so many fees to their banks in the name of convenience or perhaps ignorance.  Some people just don't realize that they are being dinged time after time with fees charged not only by their own bank, but also by the bank whose machines they keep using.

Although it may be really convenient, take the extra time to find an ATM nearby that is offered by or affiliated with your own financial institution.  By doing so you will be able to save about $3.00 (or more) each time you withdraw cash.  Contact your financial institution to see what machines are free for you to use.
From my own experience, I have learned that it's just not worth it to pay these fees.  Just recently I was in a position where I was pressed for time so I caved and used a different bank machine.  As a result, my own bank charged me $1.50 and the other bank charged me $2.00.  What a waste of hard-earned money!
So, unless it is absolutely necessary, make every effort to save on ATM fees.  If there is no convenient ATM nearby for you, consider using your debit card instead of using cash for purchases, or consider changing to a financial institution that has more ATMs in your area.