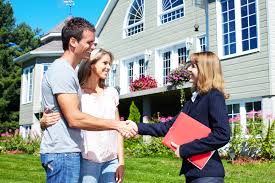 If you are looking for a new line of work or perhaps a career change, then you should consider giving real estate a chance. Becoming a real estate broker means having a job that offers flexible hours, no limit to your income potential and even being your own boss. Often a person works for a real estate company in the beginning to learn the ropes, but then they can go on to start their own real estate business.

It is easy to start your own business
When you are a real estate broker, it is easy to start your own business because the overhead is small. You can work out of your home, and show clients property when you have prospective buyers. Naturally, you will need a computer with an internet connection and a phone. You will need business cards and a nice car that is large enough to take clients to see properties. You won't always be driving clients around town; it depends upon the type of property that you want to sell.
You should specialize
Like other areas of professional activities, those who are most successful, are those who specialize. This is true in real estate, too. If you have a specialty, you will have an advantage over other real estate agents that spread themselves too thin. You can focus on a particular price range of homes or a particular area of the city or a particular type of commercial real estate. This latter type of real estate can be as lucrative as residential homes, if not more so. Regardless of your specialty, you will know what a property is worth just by knowing its exact location. It is only a matter of inspecting the property to make adjustments for condition and assorted variables. You will also have a good idea of who your potential buyers for a property are, so when you are selling a property, it is often an easier task than an agent who is not as familiar with that type of property.
You must first take courses
In order to practice real estate, you must first get a license, but in order to get a license, you need to pass a state examination. Furthermore, you will likely need to take a few classes that are required before your state will allow you to take the examination. The courses are brief, it is not like getting a college degree. It will only take a matter of months, and you can even do this part time. The exact amount of education you will need is determined by your state's laws. For example, in the state of Nevada, you will need 45 hours of instruction in real estate principles and 45 hours of instruction in real estate law.
After you complete your classes
Continuing with the Nevada example, during or after you have completed your courses, you will need to be fingerprinted and have a background check done. Your final requirement will be to pass the state examination. Most states have this test; Nevada is no exception. In Nevada, this examination is often referred to as the psi exam  because the state of Nevada has subcontracted this work to a company by that name. After you have passed this test, the last step is to apply for your license, and then you can begin your career.
If all of this seems too difficult, it is made much easier by simply attending a real estate school. Many areas of the country have them, and one may be near you.