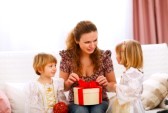 It is quite difficult to choose gifts for moms. You surely want the gift to be really special since a mother counts a lot in your life. This type of tension can easily lead to various problems in the sense that you might believe that nothing is good enough for her. You need to loosen up a little. No matter what you buy, your mom will surely love the gift. However, it is always better to choose something that is appreciated.
Let us think about some interesting gifts for mums that will surely be a hit and offer some pointers about how to choose something of a suitable quality. Remember that buying online is always a good idea but you need to hurry since Christmas is right round the corner.

Vintage Gifts
Basically anything vintage would work great due to the fact that you can relate to when mom was really young. Try to learn what period in life she loved the most and try to connect through different vintage gifts that can be found on the internet. You can easily go for clothes or home decorations that would spark memories whenever she sees them.
Personalized Gifts
If you do not know what to choose and you have a clear lack of inspiration, you can always go for something that is similar to something that you bought in the past but also add some sort of personalization. You can go for a nice locket with a heart-warming message or simply something like "I Love You Mom!"
Useful Gadgets or Accessories
Is your mom into gadgets or has some already? If so, such gifts are truly perfect for Christmas. For instance, you can always go for a personalized Kindle case. The great thing about this option is that there are so many accessories that are quite cheap and look great. However, you need to make sure that you do not choose something like this if the mom is not into technology.
Skin Care Products
Moms always want to look great and young for as long as possible. So many people do not buy skin care products because of the fact that they believe the mother will be offended. This is definitely not the case. In reality, we are confident that she would love a nice skin care gift set, especially if it includes various types of products that she already uses.
Perfumes
This is the same as with the skin care products but it is a much better suited option in the event that you do not actually know much about what you should choose. Take a look at what fragrances your mother already uses on a day-to-day basis. Go online or talk with the store clerk at the beauty shop so that you can find something similar. That will guarantee that you choose a correct fragrance and your mom will love it!
Take all the time that you need to basically choose something that is great. We are confident that your mother will love it, no matter what.