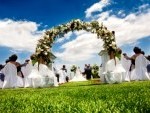 Wedding days have been special occasions since times immemorial. Even ancient civilizations held lavish ceremonies and enjoyed creative festivities on this special day when the bonds of love are made official. Every creative wedding is memorable and special in its own way, but they can often be very expensive. In order to make your wedding as special as it can be without going over budget, consider some of these creative money-saving ideas for your special day.
Think of Dress Alternatives
Wedding dresses are among the most expensive parts of marriage ceremonies and receptions. Brides to be regularly spend thousands of dollars on these elaborate and beautiful gowns, and most only use them once in their lives. A used wedding dress, perhaps a mother's heirloom or a lovely antique, can add a unique touch of beauty to your wedding and save money as well. Perhaps a friend or family member who is handy with needle and thread can touch up an old dress, or design a new one as a gift. There are many ways to get a beautiful wedding gown, so don't be sucked into new dress fever.

Take the Festivities Outside
Outdoor wedding ceremonies and receptions are not only fun and unique, they are typically some of the least expensive weddings as well. When you don't need to secure a church, banquet hall, restaurant, or other indoor facility for your wedding, you have both the freedom to hold festivities anywhere you wish and the benefit of much saved money. If you can take a chance on the weather, an outdoor wedding can make you very happy.
Enlist the Help of Family Members
Weddings are exciting, but the stress and expense of the whole process is intimidating for many couples. Give your wedding a personal touch and reduce your stress at the same time by enlisting the help of family members. Do you know someone who is adept at baking, floral design, decoration or photography? Skip the hassle and expense of hiring contractors for these services. Get the whole family involved to make your wedding personal and unique while cutting your expenses significantly.
Shoot for the Off Season
Sometimes it seems like everything is more expensive in the spring time. This is the most popular season for marriages, due to the weather, but if you get married in the off-season you stand to save a ton. Booking a reception hall will be effortless and cheap when there aren't dozens of other couples vying for the same space, and wedding expenses of all kinds will be more negotiable. Get creative with an off season wedding to lower all of your expenses.
Write Your Own Invitations
Of all the troublesome details and expenses that come with planning a marriage, your wedding invitations should be the least of your concerns. Some couples spend huge amounts of money on professionally made invitations that don't always turn out as planned. Creativity really shines here. Write your own invitations to save money and give each one of your guests a unique message. It may take time, but it can be fun to get creative and save money on wedding expenses like this. Consider these great ideas for your wedding, and make the day one that will be a fond memory for years to come.