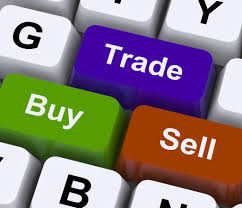 Looking for a way to improve your account balance? It's not always easy, no doubt about that. Many things often get in the way – your job, your family and your home need to come first and after that you simply don't have time to go around looking for opportunities to earn a bit extra on the side. Today's world is just too hectic for that. However, there are various forms of online trading that can help you. The beauty of this type of trading is that you can trade from home or even from your mobile device, so there is no need to spend a lot of time on it. Let's see which opportunities can be found online and accessed from the comfort of your own home.
Prepare yourself thoroughly
There are several types of online trading you can find – forex and binary options are good examples. Binary options are often regarded as a better choice for beginners because they are much clearer, contain fewer variables and some brokers allow you to start trading with just a few dollars. But whichever type you choose, preparation is absolutely essential. Although it may seem simple, online trading still requires some getting used to. Again, you can do all this online because many brokers have extensive educational libraries and free demo accounts for you to enjoy. Don't go in blindly, be thorough and learn what to expect. Only then will you be able to trade successfully. There are plenty of rookie mistakes that can be easily avoided if you go through the most basic education materials, so don't be hasty.
Choose the right strategy
Once you're prepared, you need to choose the right strategy. Don't let high potential payouts ensnare you, go step by step and increase your account balance gradually. No trader can be successful 100% of the time, but once you master your strategy you will be able to trade more efficiently, which will leave you with much more time for yourself. Sticking to your strategy allows you to gain a source of income that is not necessarily big, but it can be steady. This is why no strategy will tell you to put all your eggs in one basket – the more trades you have open, the more safety nets you have if something goes wrong. What is important is that you're profitable at the end of the day, no matter if your profit is 2%, 5%, 10% or 50%. With time, these percentages can turn into a pretty decent sum.
Conclusion
And that's about it; those are the main concepts behind online trading. Do not expect to become a millionaire with just a trade or two, but with the right strategy you can gradually increase your budget. Patience is what you need in this business. One of the main advantages of this type of trading is that it can be done from your computer back home or from your mobile device, so you don't have to waste a lot of time on it. In this respect, online trading can be extremely efficient. You don't need a degree or anything of the sort, just open your account with a broker, place your investment and you can get back to your other tasks.