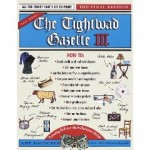 I recently told a friend of ours about this blog and she recommended that I read The Tightwad Gazette
. I had never heard of it before so I decided to check it out. I have to say I am impressed! The author, Amy Dacyczyn, had this fabulous idea to ask others to contribute ideas on how they save money. So, in addition to her own articles, scattered throughout the book there are miniature articles written by various people throughout Canada and the United States offering tips on everything from home decorating to cheap breakfast cereals. There are also a lot of great recipes. If you would like to learn ways to become thriftier, I would highly recommend this book.  Believe me, there are ideas in this book that you have never thought of!  I can't think of a better time than now to be reading a book like this.  Surviving a recession can be tough, but with a little bit of research, you can find great ways to live frugally and keep afloat during the tough times.
Here are some neat tips introduced in the book to whet your appetite:
*Make your charcoal last longer by pouring water on the coals immediately after you are finished with them. By the time you are ready to barbecue again they will be thoroughly dry and you can reuse them.
*Make your own brown sugar by taking one cup of white sugar and mixing it with two tablespoons of molasses. It works well for baking and is cheaper than buying regular brown sugar.
*Use a dab of nail polish to stop runs in bathing suits.
*Have a "casserole shower" instead of a baby shower about 3 weeks before the baby is due. All of the guests bring a casserole that the mom-to-be will then put in the freezer until her baby is born. The new mom will be grateful for all the ready-made meals.