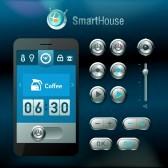 It's a brave, new world and the name of the game when it comes to modern households is the smart home system. You might think that remote controls are only good for turning your TV, DVR, and stereo system on and off, but it turns out that smart home systems now allow you to control a slew of electronic devices in your house, including the thermostat, lighting, garage door, home alarm system, and even some appliances, depending on what you hook up. And the best part is, you don't even need a special remote to control these devices. You can change the temperature, turn on the lights, or arm the alarm from anywhere with your smartphone or tablet when you download the right apps to go with your smart home setup. But how can installing such a system save you money? While it will cost you something to get your home working smarter, you'll find that these changes will help you to cut back on energy usage, saving you money over time and potentially paying for any initial expense and then some.

Here are just a few ways that home automation can help you conserve energy and cut your utility bills in the bargain.
The main benefit of home automation, aside from the convenience it provides, is that it allows you almost unlimited control over the electronics in your home at all times, no matter where you happen to be. Suppose you left the lights on or forgot to arm the alarm when you left the house. You can now correct the oversight once you get to the office (or even on your morning commute if you're not behind the wheel). This is not only a potential life-saver, but in some instances it could also help to shave dollars of wasted electrical usage off your utility bill. And this is perhaps most apparent when you use it to control your thermostat.
One of the biggest culprits when it comes to electrical waste centers on the use, or misuse, of the average thermostat. Even if you have a programmable thermostat, you may not feel the need to put in the time to set a schedule seasonally. Or members of the household might constantly override the settings. In short, you may not be using your thermostat appropriately in order to conserve energy, cut waste, and control you electric bill as well as you could. But with home automation, you can not only control the thermostat from afar, you can actually monitor the usage, apply your preferred settings, and even lock the system so the kids can't monkey with it when they get home from school. You can also make sure that the system ramps up slowly so that you're not wasting energy and money by demanding that your system goes from 58? to 68?, for example, at the drop of a hat.
Although there are no doubt many advances on the horizon when it comes to home automation, there's no reason not to use the tools at your disposal today. You may not need the level of products provided to commercial interests by a company like industrial control direct, but you can certainly secure an automation system that is right for your home and your family. And with proper usage you can definitely take advantage of your system to control your energy and your utility bill.