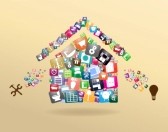 There's no getting around the fact that home renovations can quickly eat up even large budgets. And if you happen to have a historic home, the expenses can quickly skyrocket. Not only are you looking at standard costs for materials and labor, but you must also realize that there could be a lot of issues behind the walls, just waiting to be discovered when you're working with an older property. If the plumbing, electrical, insulation, and so on are out of date, out of code, or contain hazardous materials (asbestos, for example), you could be looking at major expenses in addition to what you're already spending. And this is supposing that your home is not on the historical register, which could create a whole other mess of problems should you plan to remodel. But even if you're working with an older or historic home, there are certainly ways to cut back on expenses when you renovate. Here are a few avenues to explore when it comes to trimming the fat from your budget.
Be realistic when you determine your budget.
First of all, you need to think long and hard about serious renovations that require you to gut rooms or change the interior structure of the home. While you can do some of the demo and hauling on your own in order to cut costs, you'll have to pay the piper if you tear open a wall and find that asbestos was used as a fire retardant. In most cases you'll have to get a hazmat team out to remove it at no small expense. Since you may not have any idea about what is going on inside the walls, digging in is a bit like opening Pandora's Box: all hell could break loose. The point is that you need to carefully consider whether your budget can bear the expense, or at least create a buffer to cover the gap in the event that such issues are uncovered during the course of your remodel.

Consider salvaging and reclamation.
One great way to save that is especially pertinent when renovating an older home is salvage. If you've decided to undertake a few kitchen upgrades you might save fixtures (lighting, plumbing, etc.) and hardware (hinges, door knobs, drawer pulls, and so on) to reuse in the process. Salvaging these pieces will help to preserve the historic integrity of your structure, something that may be important with a historic home. But you can also consider reclamation. Suppose your cabinets are sagging to the point that they've become a hazard and there's really no way to repair them. Instead of installing modern cabinetry that won't match the style of your home, you might want to save a few bucks by purchasing reclaimed cabinets. If you're lucky you'll find some from the right era that will help to give your older home the functional update you need without negatively impacting the overall aesthetic of the space.
Don't be afraid to ask the professionals.
Of course, you might have to approach professionals who can provide the plumbing, electrical, or heating and air conditioning FAQ answers you need where your historic home is concerned. They should be able to provide you with a range of options to suit every budget, as well as details about how to make modern amenities fit with your historic home. At the very least they can work with your interior designer to deliver the function you need in a package that fits seamlessly into the historic style of your structure. And hopefully they can find ways to help you save some dough in the process.