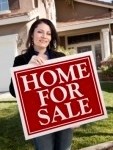 Selling your home is a big deal.  You want to ensure that you get the most you can for your home.  When my husband and I recently sold our home, we chose to sell using a real estate agent.  However, not everyone feels it is necessary to hire an agent.
If you plan on selling your home on your own, I would recommend that you do some research before putting your house up for sale.  Before we had decided firmly on hiring an agent, I was searching online to see what information was available for people wanting to sell privately.  I came across a website that lists the 14 biggest mistakes that homeowners make when they try to sell their homes privately.

Some mistakes include listing their home for more than it's worth, not cleaning up the clutter in their home, and not knowing how to properly advertise.  For a more complete list, click here.
I would recommend that you browse the fsbohowto.com website to get more information on the dos and don'ts for selling your home.  You will find tips on writing your ad, getting a lawyer, writing a real estate contract, and much more.  Since you are not an expert, you need to read up on what is expected of you as a home seller so you are properly equipped to sell your home on your own.