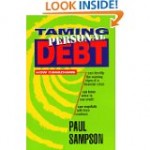 Taming Personal Debt by Paul Sampson
I recently picked up Taming Personal Debt
from my local library and found it an easy to read, helpful guide for those who are struggling with debt.  The book only takes about an hour or two to read and it covers everything from recognizing your debt issues to dealing with creditors.

It is written specifically for people who want to learn how to manage their debt and ultimately pay it off.  The book discusses filing for bankruptcy, working with your creditors to try to reduce the interest you need to pay, etc.
The author himself struggled with both personal and business debt, which at one time had overwhelmed him.  He has managed to successfully overcome his debt problems and wanted to share what he learned with others so that they don't have to learn the hard way as he did.
He discusses the best ways to use credit cards so that they help you to make money instead of costing you money.  He also talks about the importance of prioritizing your debt and paying down the debt with the highest interest rates first.  He touches on debt consolidation as a way to help manage debt.
If you are concerned about your current debt situation, this book will help you to get on the right track and will hopefully encourage you.  If the author was able to dig himself out of about $400,000 of personal and business debt, then surely there is hope for your situation, too.