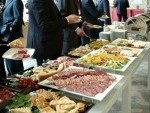 My husband and I do not eat out a lot because we know it is cheaper to cook ourselves.   However, it is nice to eat out once in a while as we get to try different foods and we don't have to clean up the mess afterwards.
Lately we have been eating out more frequently, and although my husband's all time favorite place to eat is at a buffet that serves all-you-can-eat snow crab legs, he was willing to try a Chinese buffet that was half the price.
We were pleasantly surprised by the buffet.  For just $10 per person, the buffet offered a variety of Chinese main dishes, some salads, soup, fruit, dessert, and even a few varieties of dimsum.   Although it was not as good as our classic crab legs buffet, it was a really good deal and we were impressed.

Eating out doesn't have to be a huge burden on your entertainment budget, especially if you can find a reasonably priced buffet in your local area.  Buffets give you the biggest bank for your restaurant buck as you never leave the restaurant hungry, and you often are provided with appetizers, salad, soup, and dessert, which are all extra expenses if you order from a menu.
It is fun trying out different restaurants once in a while.  It is a nice way to have a date with your spouse or to connect with old friends.  Although my husband and I are extremely frugal and careful with how we spend our money, we know that life is too short to be penny pinchers all the time.  It is important that we enjoy our money in the present, too, and not just save it all for future goals.