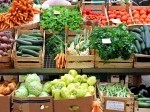 The best time to visit your local farmer's market is in the fall when all the sellers are trying to get rid of their produce.  During the summer you may find good deals, but in the fall you are guaranteed to find them.

Recently my friend and I visited a local farmer's market and my friend was able to buy a huge box of roma tomatoes, a huge bag of onions, and a huge box full of red and green peppers for $16!  This allowed her to make a large batch of salsa.  The tomatoes and peppers had a few bruises on them so they were sold at a deep discount.
I also lucked out.  I was able to buy three bunches of cauliflower for only a dollar!  I found a huge bag full of a variety of chili peppers for only $3!  In the store, it usually costs me about $1 for only one or two, and this bag had about 100.  They were selling for so little money because they weren't in perfect condition.  But they were still perfectly edible and I only had to throw away one or two from the entire bag.
Coming in the fall is an especially good time if you are someone who likes canning, preserving, making large amounts of sauce, salsa, etc.  As long as you don't mind a few bruises and some imperfect looking produce, then you are definitely going to save a ton of money.
What we found helpful was to look around the entire market first, to see what was available and to compare prices.  You would be surprised how much the prices can vary and it's better to take the extra time to compare, just like you would in a grocery store.
It's also generally a good idea to bring your own reusable shopping bags.  They are much sturdier and easier to lug around then the plastic bags provided at the farmer's market.  Be prepared to want to buy more than you anticipated, and bring cash as that is generally the only method of payment accepted.
Now is the time to head over to your local farmer's market.  Winter is fast approaching so make the most of this opportunity before it's too late.  Have fun shopping!