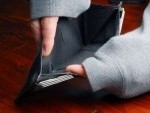 While flipping through David Bach's book Fight For Your Money
, I came across a section on payday loans.  I have always known that payday loan companies ripped people off, but after reading this section of the book, I am more convinced than ever that payday loans should be absolutely the last resort in a financial emergency.  In fact, I wouldn't even consider a payday loan as a feasible option.
First of all, if you take out a payday loan, you will be charged outrageous loan payment fees.  In the instance referred to in the book, a woman borrowed $400 and was charged a $60 fee.
Then, because she couldn't afford to pay the full $400 at the due date, she was forced to take out another payday loan to pay off the first loan.  This caused her to pay yet another ridiculous loan fee.  Payday loan companies do not accept installment payments, so if you don't have the means to pay off your initial loan, they have got you exactly where they want you – you will end up in a vicious cycle by taking out one loan after another in order to pay off the previous loan.
By the time the woman had enough to finally pay off her debt with this particular loan company, she had paid $1,780 to borrow the $400! That means she paid 445% in interest charges!  Unfortunately, some payday loan customers get stuck paying as much as 1000% in fees and interest charges as it takes them longer to get out of the trap.
Payday loan companies may seem attractive, as they are willing to lend to anyone with a job, even if they have bad credit.  Before resorting to such an option, do your research and make sure you understand the full implications of taking out a payday loan.  Learn from other people's mistakes and avoid falling in the payday loan trap.