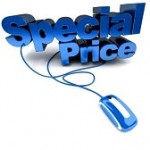 Coupons give you a chance to save money, and, like they say, "a penny saved is a penny earned." Taking a little time to understand coupons and utilize their benefits can have big rewards. Think of all the money you will end up saving on a long-term scale, but even then you will see the immediate results every trip to the store. That's more money in your pocket to spend how you want to spend it or save for a rainy day.
Coupons are easy to get, too, maybe even easier than you thought. In fact you can get plenty of coupons from the comfort of your living room couch online. You can get this type of coupon through retailers or other various websites which offer discount codes. If you're not sure how this works, simply check out Discountrue and you'll see what I mean. A discount code is a series of numbers and letters, and when you arrive at the checkout you can enter these codes and receive discounts.

If you are at the homepage of the retailer store you are buying from you can most likely find discount codes at the top of the page. It doesn't hurt to shop around for better discounts, though, because sometimes the ones offered directly from the retailers aren't the best promo codes you can find. If you have a Twitter or Facebook account you could follow the retailer that way and easily find out about available coupons. Email alerts are another common way you can receive notifications and get the inside scoop on your favorite retailer's exclusive coupon codes. You might want to make a separate account just for retailers so that when they email you about sales and coupons they won't overwhelm your primary email account. You may even be able to find exclusive coupon codes on certain coupon sites like Discountrue that I mentioned before. Customer service can also be used as a resource to get great discounts. They may be able to let you in on unpublished coupon codes.
The best time to get coupons is usually at the very beginning of the month, and, in addition to that, most of these types of coupons are good for the entire month. That usually gives you the option of waiting until the end of the month to see if better coupons might even come along. If not you can use the one you already have. Check early in the week at the beginning of the month. Sundays are usually when stores release their coupon codes. August and October see a significant rise in coupons due to students returning to school, and, of course, holidays also see some great deals. Getting coupons on Cyber Monday and about two weeks before major holidays are great ways to save on your purchases. Usually things are already marked down, so coupons just sweeten the deals even more.
With these tips you should be armed with the necessary coupon codes next time you go shopping so that you can save money. Just a little extra effort and searching can really pay off in the end, and if you have never tried these simple ways to get coupons you might be surprised by the difference you see. Putting in the time to save is a huge reward to your budget.