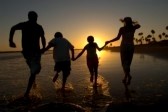 Whether you want to go on a vacation three hours away, or you want to vacation halfway across the globe, there are ways to make everything about your trip affordable. You can find many excellent discounts online, and in addition to this, if you do your research properly, you will be able to plan out your trips well in advance, buy early, and save substantial amounts of money by locking in your rates for your trips well before anyone else has even thought of taking a trip.
Buy Well in Advance
Sometimes, the best way in to save money on a trip is to have it planned out months in advance. While this isn't possible for everyone, this is an especially good idea for those with fixed schedules, or those who have specific paid vacation times. If you can purchase your plane tickets, hotel fees, or even train fare far in advance, you will have a much easier time of finding better rates. If you are traveling to specific events, there are often special rates for that particular event if you preorder your rooms, for example, within a certain time period. Buying well in advance also allows you to better plan out your activities and budget for certain activities that you would like to do. If it is all already paid for (and much more affordably, too), you will  have a much more relaxing trip and you can just focus fun during your vacation as you won't have to worry about excessive spending.

Group All of Your Purchases Together
One of the best ways to save money when going on a vacation is to bundle your various vacation expenses together. One of the best ways to use product bundle pricing is if you need a plane, a hotel, and a rental car while you are vacationing. Utilizing this will often get you special rates, and you will save hundreds of dollars by using linked companies that bundle all of your travel expenses together. There are many online websites that offer these services, and you can search for them specifically for what you need in order to find the best discount that is right for you.
Look For Group Rates
You will often find good, discounted rates for your vacations if you are planning a vacation for a larger group of people. There are often family rates involved that you can benefit from if you are taking a vacation with the whole family. Overseas trips commonly utilize these types of discounts, or there are usually quite a few discounts if you are going to family-themed places, or popular resorts that offer family activities. These rates can be very beneficial to you if you are going to be spending time with a larger group during your vacation.