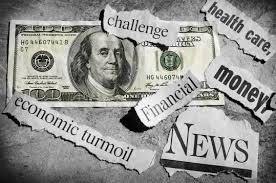 Most of us would agree that America has suffered from a pretty unstable financial market over the past few years and so far 2017 seems to be following suit. In a study undertaken by The Fund For Peace, a global index measuring national security and economic stability, the U.S. was ranked the 13th most worsened nation last year.
As regular citizens, we're affected at a local level. If we happen to be wealthy, we're constantly striving to ensure that it stays that way. If, on the other hand, we're accustomed to living frugally, we're probably trying to find a sure fast way of securing ourselves a more stable future. Nobody wants to be feeling the financial crunch as retirement approaches and no-one wants to feel that they have to keep working later on in life just to pay the bills.
The answer? We need to find better ways of responding to and coping with the effects of an unstable economy.
1. We need to improve our financial literacy
In a recent survey, undertaken by the Financial Educators Council, researchers found that a mere 64% of Americans are financially literate. Simple math dictates that 36% percent, therefore, are missing out on the variety of ways in which they can plan towards a more financially stable future. The survey included all age groups and demographics in the hope of returning an accurate picture of the U.S. as a whole.
As the financial experts at Corporate Business Solutions know only too well, "Adversity is always lurking around the corner". So, the first thing we must ask ourselves is whether we actually have a feasible, long-term financial plan in place or not. We need to know more about the assets we have and how to maximize them to our advantage. In most circumstances, the advice of a financial expert is paramount. Like most things in life, education is where improvement really begins.
2. We should find out more about digital currencies
Digital investment alternatives are still a developing space, but their growing popularity and recent successes cannot be ignored. The Bitcoin has already hit all-time high prices on two occasions this year. Ethereum is another digital currency that has also been registering regular increases. As such, more people are turning to the digital currency space to support their investment strategies. Let's face it, any way in which we can save a few more cents here and there is worth looking into.
Since their introduction, they have shown signs of volatile behavior, but they have also enjoyed a general increase in value over time. In short, despite dips and falls, they do always seem to be on the rise. One word of caution, however. Digital currencies are still a relatively unknown sphere for most people and so anyone looking to make an investment should definitely consult an expert in the field.
3. We must place more emphasis on retirement planning
This tactic is something that probably really appeals to most readers. The average American retires at 63 and the average retirement lasts around 18 years, but the average 50 year old only has around $42,000 saved in his or her retirement plan, according to The Motley Fool. Sound familiar? These figures are more than worrying, as most Americans could spend around $42,000 in a year. The idea that we somehow need to make it stretch out for another 17 seems almost impossible.
As such, it's time to begin investigating the possible alternatives to the standard retirement fund. A Stretch IRA Trust appears to be one of the most popular. A Retirement Trust is another alternative, which seems to be attracting attention. If you haven't seriously considered how you're going to manage finances when you retire, maybe it's time to start.