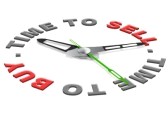 For many people the stock market is one of those things that they have no interest in and they assume that you need money to actually make money with it. Just know that the stock market is something that anybody can use and if done right you can make a lot of money.
Let's set one thing straight right now though, the stock market is not a get rich quick scheme. If you have a lot of money in the stock market, then you can make a lot of money fast and you can lose a lot of money fast. Now, if you only have a few hundred dollars, then you have just as good of a chance to make money but it will take you a little bit longer. This is where you want to be. If your goal is to double your money within 3 years, then that is a great goal.
So, what else can stocks do for you?
Stocks are a great way to put money away. This is similar to that of a savings account, however, you will normally get a higher return on your money and you also run the risk of losing your money. This is why some people don't feel the stock market is right for them. Trust me, the stock market is a great place to put at least a little bit of money. I understand you don't want to lose it, however, just think about what it will be spent on if you have it sitting in a savings account.

Did you know that all of the world's wealthiest people are invested in the stock market in some way or another? For example, Bill Gates has millions of shares of Microsoft. Donald Trump has a lot of shares in his own stock as well as others. It doesn't matter who you ask, if they are wealthy then they have stocks of some kind. This is exactly how you need to be thinking as well.
So, what do you need to do now?
I recommend that you open up a practice account.  Chances are, the bank you currently deal with has an online brokerage service that you can sign up for.  Before actually putting your own money on the line, ask if they have a practice account in which you can use fake money to invest.  Do some research, and talk to those you know who have been successful at stock market investing.   Take a course if one is available in your area and you have the time.
Once you feel ready to start investing your own money in the stock market, go for it.  Start small, do your research, don't get greedy, and find what works for you.  Only invest what you can afford to lose.  Never ever invest money that has been set aside for a short term goal.  Good luck!