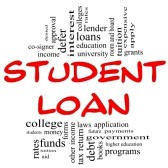 While taking out a college loan can be a valuable resource to afford a higher education, it is incredibly important to consider a few things before you do. About 60% of people who go to college take out student loans to supplement their tuition and other costs, but it can have serious implications, especially if you have trouble paying it back. Out of all the students that do rely on loans, a staggering percentage is having trouble paying them back. This is not the fault of the lender or even the interest rates, but mainly because of the dismal job market. Basically, new college grads are finding it harder and harder to find work.
Here are 5 things to consider before taking out student loans.
Make sure that you read between the lines. Often there might be hidden fees or changes of interest rates, which can severely affect your chances of ever being able to pay back your loans. A financial aid counselor should be able to guide you through all the terms of your aid package so that you aren't missing anything. If you are, they will certainly point it out or answer any questions that you might have.
There are different types of financial aid that are available, so it is important to know which one works best for you. There are financial aid programs that offer loans that you will need to pay back or you can apply for a state or federal grant, which is essentially free money to be applied to your higher education that you don't need to pay back. It's wise to find out what you are eligible for, before you sign up for anything.
[click to read…]