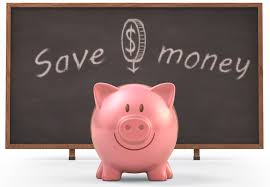 We all know that saving money is a good thing: it gives us spare cash to use for emergencies or even for luxuries like a relaxing holiday (I certainly need one of those right now). The problem with saving is it's hard work because we have to control our spending when there are so many nice things just tempting us to buy them. However, you can control how much you spend just by changing some of your financial habits. I say "just" but, of course, it isn't ever easy to change any habit. You need to want to make the change and be determined to succeed. If you are, here are some easy lifestyle changes that will save you money:

 Cut The Cost of Your Bills
If you are with the same gas, electricity or phone provider that you have been with for years then you are probably paying more than you have to. Check prices with other providers and look out for special deals if you switch. And once you have switched to a better deal make sure you check it every year so you are always on the best deal.
 Buy What You Need Not What You Want
It is easy to convince ourselves that we "need" that new dress, new car, new holiday, but nobody needs those things. There is a big difference between needs and wants but many of us have forgotten that. Try being more frugal and if you genuinely do need something then consider second hand items or items from a charity shop instead of a brand new item.
 Always Pay Bills On Time
Paying a bill late, whether that's a credit card or personal loan repayment, or a regular utility bill often incurs a late payment fee. These might not seem like much but they are usually fees we can avoid if we are a bit more organised about our finances. Either set up bills to be paid automatically or put reminders on your calendar or in your phone so you don't forget to pay on time. If you have any short-term loans or no credit check loans these will have hefty late fees so make repaying them a priority
 Cook More
With an abundance of convenience foods and take-outs available it is tempting to use those, but cooking yourself from scratch with fresh ingredients will save you money. It will make both your finances healthier and your body healthier so there's really no reason not to. If you think you are a bad cook get on YouTube and take a look at all the easy step-by-step recipes that will get you started and build your confidence as a cook. Cooking is fun once you know what you're doing and it's easy to produce food that is much tastier than anything you'll buy ready-prepared.
 Create a Budget
If you know how much you have available to spend on, say, groceries, then it will be easier to avoid over-spending. Set your budget and make sure you just spend that set amount each week or month. There are always alternatives to buy to help you keep within your budget – try different brands and different stores – you may be surprised that cheaper goods are not always worse quality. Challenge that assumption and find goods with prices that work for you.
Good Luck!