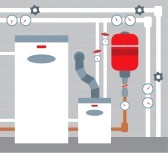 When it's really chilly outside and we happen to be out in the cold weather, one thing that we can't wait to do is get home where it's nice and warm. And for many of us, we are able to do that because of our furnace. But just like almost everything in our homes, there will come a time when you'll need to purchase a new furnace either because it has stopped working altogether or it's simply time for an upgrade.
If you'd like a few tips on what you should consider before you decide to buy a new one, we have five things that we think you should keep in mind below:
Look for the kind that is energy efficient. As more people are looking for ways to conserve energy, thankfully there are manufacturers that are making all kinds of items to accommodate their customers' needs. This would include energy efficient furnaces. So, as you're spending time looking at different models, try and go for one that has an Energy Star label on it. They are specifically designed to help you use less energy than many of the standard models.

Make sure that it comes with variable speeds. Something else that is important for furnaces to have is a variable speed feature. Not only will this help to keep the rooms in your house comfortable, but it's another item that will effectively monitor the amount of energy that you use. While standard furnaces use around 400 watts of energy, furnaces that come with variable speeds tend to use between 60-80 watts.
Check to see if it's quiet. Pretty much all of us have experienced having a refrigerator or washing machine that was on its last leg and therefore was making a ton of noise. There are a lot of furnaces that tend to be louder than you would probably like as well, so be sure to ask the customer sales associate to point you in the direction of the quieter units.
Look for one that is high quality. If you want your next furnace to last for years to come, you definitely want one that is of the highest quality. One way to know if the model you want is a good brand is by looking for it to have the Good Housekeeping Seal. This means that it has gone through a fairly extensive testing process and that it also has a two-year warranty.
Ask about the thermostat that will best complement it. When it comes to things like heat pump maintenance or servicing your HVAC unit, it really is best to hire a professional technician to assist you. And while they're there, one of the things that they will probably tell you is that before you purchase a new furnace, you should inquire about the kind of thermostat that will best complement it. That's because by installing something like a programmable thermostat, you can actually save yourself quite a bit of money. So, once you've selected the perfect furnace, be sure to get a thermostat too. Then you'll have all that you need and you can be rest assured that your house will be cozy and comfortable all winter long.