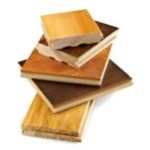 My husband and I are currently in the midst of getting new flooring installed in our home.  We bought a home which is around 30 years old and some of the carpets were still the original ones from when the home was first built.  Needless to say it was time for a change.
We decided to install vinyl flooring in our kitchen, laundry room and dining room.  We saved quite a bit of money by doing the majority of the prep work ourselves.  This involved pulling the two old layers of linoleum off of the subfloor and then scraping the remnants along with the adhesive off of the plywood subfloor.  This was not a pleasant experience, but we saved ourselves about $50 per hour by not paying someone else to do it.
When it came time to install the vinyl, we hired a local professional to take care of it.  We were very happy with the results and we are planning on hiring him again to do the rest of the upstairs.
For the remainder of the house, except our bathrooms we have selected a laminate flooring.  In order to prepare for this floor, my husband had to remove a second subfloor in our hallway and entryway, and then had to remove all of the old carpeting from each room.  Fortunately some of the carpeting was held down by nails and was fairly easy to remove.  Unfortunately, other carpeting was glued down and so the floors had to be scraped to remove a good portion of the adhesive.
Once again, because we did most of the prep work ourselves; we have been able to keep our labor costs down.  The more done by the homeowner, the less the homeowner should expect to pay.  If you've got the time and energy you can most definitely save some money by doing the dirty work.  Just get some good work gloves, and be ready to sweat a lot!