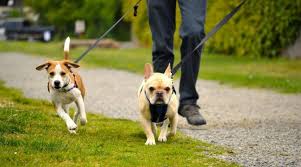 If you've ever walked your neighbor's dog or stayed overnight at a friend's house to watch their dog, consider yourself a dog sitter.  Now, how can you make extra money doing this regularly?  Join Rover.com to network with pet owners in your community and quickly build your clientele.  Here are a few additional ways to make money doing what you already love to do.

Expand your offerings.
Dog walking is just the beginning.  Consider all the options that you can offer.  Are you available for drop-in visits for owners who need their dog fed and let out for a bathroom break?  If dog owners are traveling, you may offer dog boarding or house sitting.  Perhaps your work schedule is flexible enough to offer doggie day care in your own home.  The more variety, the more opportunity you have for additional income.
Set a rate that's worth your time.
Set your rate according to the type of care you're providing.  Your time and effort to coordinate and take care of owners' pets is valuable.  While you may charge a lower rate for drop-in visits, think about what your time is worth if you care for a dog overnight.  Consider add-on benefits for owners like bath time or other simple grooming.  What would you charge for taking care of multiple dogs or dogs with health constraints?  Ultimately, you'll want to set a fair and competitive rate for each service offered.
Allow for Flexibility.
Every dog owner eventually runs into a last minute need for someone to take care of their dog. Make yourself available for last minute jobs and let your clients know when you can be more flexible. Make it as easy as possible for owners to reach you quickly and schedule you.  You'll will have a series of loyal and regular clients in no time.
Rover.com makes all of this possible–and simple!  Not only can you make extra cash as a dog sitter, you can easily develop this work into a money-making business.
About The Author
This article was written by Tracy Vicory-Rosenquest, Rover.com community member. Rover is the nation's largest network of 5-star pet sitters and dog walkers.