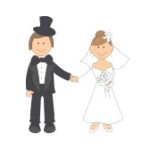 Are you in the middle of planning for your wedding day? If so, then you are probably up to your eyeballs in bridal magazines, invoices from venues, florists and caterers and phone calls from the bridal party about their outfits and accessories. Therefore, we totally get it if you are just now getting around to figuring out how to find a professional photographer that will not break your budget.
If it seems like an impossible task, it's not. As a matter of fact, we have five tips that will not only assist you in getting the wedding photographer of your dreams, but one that you can afford as well.
Ask around. The great thing about knowing married people is that they've already been where you are, especially when it comes to wedding planning. If you know a few newlyweds or you've looked through some couple's wedding books and their pictures really stood out to you, don't hesitate to ask them for some referrals. They can probably connect you with some people who are both good and inexpensive.
Get a package deal. As you were doing some research on honeymoons, you probably noticed that all-inclusive vacation packages can save you quite a bit of money. The same is true when it comes to getting a photographer. If you opt to purchase a package that comes with both a photographer as well as a videographer, you can usually get a really great discount rate. Oh, and if you find ones who do contract work rather than are employed through a commercial company, you can save just that much more.

Be clear about what you need. One thing that can cause you to pay more than you would like are the hidden fees that oftentimes aren't mentioned until after the wedding day is over. These can include the assistants that are brought along, the amount of hours that the photographer stays and the "special equipment" that they use. The main point here is that it's smart to not assume anything on the front end. Discuss what you want, how much it will cost and be sure to get it in writing…beforehand.
Try a day other than Saturday. It doesn't matter if you're getting married in New York, Houston or Raleigh, when it comes to venues and photographers, you can always get a lower rate if you have your wedding scheduled on a day other than Saturday. If your heart is set on that day, then consider having your wedding during a month that is not considered to be "on season" for nuptials (those would be June and October).
Have a professional for the ceremony, use friends for the reception. Some of the absolute best pictures are the ones that are candid shots. So, if you have a few friends who like taking pictures just for the fun of it, offer them $50 to take pictures at your reception or put disposable cameras on the tables for guests to use. So long as your wedding ceremony (and bridal party) shots are professionally-taken, you don't have to spend a ton of money on the other festivities and you just might end up with a few pictures that are just as good.