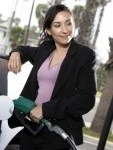 If you have been following my blog for a while, you have probably realized that lately there are a lot of posts about traveling.  As we continue on our U.S./Canada road trip, I jot down various thoughts to share about things we have been learning through our travel experience.

We soon discovered that one good way to save on fuel costs while taking a road trip, is to avoid stopping at the most conveniently located gas stations.  For instance, if you have driven a long stretch without services for 100 miles or so, you can bet that there will be a gas station at the end of that stretch that is going to rip you off.  Rather than getting gas at this location, check the map.  If there is a town coming up shortly, bypass this gas station and fill up in town instead.  If you are in desperate need of gas, then don't fill up, just get enough to get you the next town.
Gas stations along the highway sometimes charge more than gas stations in town as well.  Again it boils down to being so convenient.  It always costs more for convenience, so we were glad we became aware of this sooner rather than later.  Hopefully by avoiding conveniently located gas stations, we will see some savings on our fuel costs.
What other tips do you use to save on gas when you travel?