What does it mean to pay yourself first?  Rather than taking care of your bills and expenses each month and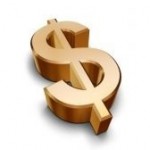 then seeing if you have any money left over to invest and save, paying yourself first means you put aside some money for saving/investing as soon as you get paid!  If you do that, then you know you will be able to tuck some money away for retirement as well as build up an emergency fund.
An easy way to pay yourself first is to set up an automatic withdrawal from your checking account on the same day you get paid.  That way you won't even miss the money because it will be like you never had it in the first place.
Even if you are on a tight budget it is important to pay yourself first.  It may seem impossible on paper, but you need to do it.  In Rich Dad Poor Dad, Robert Kiyosaki talks about a time when he and his wife had almost no money but they still insisted on paying themselves before paying their bills.  Their bookkeeper at the time thought they were nuts.  But look at them now!  They have successfully learned what habits contribute to building wealth.
If you're not already paying yourself first, I recommend that you take some time to look at your budget and set up an automatic withdrawal each month to start saving and investing for the future, even if all you can do is put aside $25 per month.  It's better than nothing, and as you progress you can increase the amount you invest.