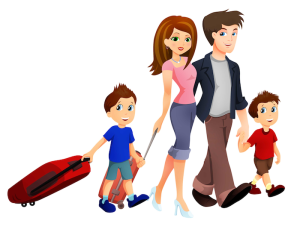 Your finances make for a crucial aspect of your trip planning process- no matter whether you're traveling solo, with friends or with family. Your mode of transport, accommodation, and itinerary- almost everything will depend on your budget. However, as a frequent traveler you should not miss out on chances of making up the most of your vacation within your budget. It's imperative that you keep track of the latest discounts or the holiday packages offered specifically on the destination of your choice. Here is a rundown on ways to save money while you're traveling with your family.
Plan your trip wisely
One of the crucial steps to saving up substantially while traveling would be to travel during the shoulder season. This is the time when accommodation, flight tickets and hotel room rents are much less expensive. The trick would be to plan your trip between the peak and the completely off-peak (for instance, the hurricane) season. Choose a time that falls between these two seasons- shoulder season. For instance, if you're traveling to Europe it would be advised that you do it either during April- May or from mid-August till October. The climate remains soothing and there's no real rush f tourists as well. There are solo trippers who choose the school year as well but that would be a little difficult if you are traveling with family. Even after you have booked your resort or hotel you can go back online in order to check if there are better deals available or are posted until the time you leave. If you can find something of that sort, do ask for those deals.
Keep your Dates Flexible
This is something very difficult especially if you are traveling with your family with all of you all having different priorities in all likelihood. However, it's always better to at least try and reach a decision whereby you would be able to rake in the best of holiday packages available. As already mentioned above, the shoulder season remains an ideal time travel for frugal tourists who are not too fond of tourist rush as well.
Save on Luggage
Opt for the amazingly cheap luggage shipping services. Companies like Send My Bag and Carrymyluggage.com transport your luggage to the destination and back from it at much lower prices than what is offered by the airline authorities. So get in touch with them in order to avail their services to make some savings.
Explore Saving Options through Social Networking Websites
Most of the airlines out there have Facebook and Twitter pages that remain a useful means of getting some bargains. Social Media is one place where you would end up being updated about the latest deals offered by airlines. They are coming to you anyways without you having to spend due time in research.
Other Tips
Consider saving on food by staying at hotels that allow "kids eat free deals".
Get in touch with agencies that offer combined deals on hotels and airfares. Both the hotels and airlines have deals that they are not publishing publicly. It's only through these agencies that will combine these two up to present you the best deals.
Hunt for the special promos on food, accommodation etc available in the destination.