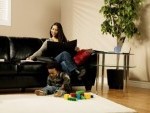 As a stay at home mother, there are many things that you can do, but not all will actually make money. The truth is that stay at home moms have an advantage because they are already at home. Just think, if you are already at home and you are not required to make money, then you will be much more likely to succeed in the end.
Something that a lot of stay at home mothers don't realize is that there are many simple business ideas that you can use. Below are some of those ideas, but know that there are many more out there.
Simple Business Ideas For Mothers
Home Cooked Meals – Have you ever heard of a company called, "Meals On Wheels"? This company got their start by making good ol' home cooked meals and then taking them to people who would want them. This is similar to any other restaurant delivery service, except the price is cheaper and you get better food. The nice thing about this is that you can start with friends and family first and then expand from there.

Network Marketing – Network marketing will take a little more time than any of the other ideas here, however, once it is setup the money will roll in much faster. The only thing you need to understand about network marketing is that you need at least 200 people that you know in which you can turn to right from the get-go. If you don't have 200+ people, then you should consider a different idea.
E-book Creation – Writing E-books has been a very popular topic this past year and for good reason. Many bloggers and content writers are making full time incomes by writing E-books for online retailers like Barnes and Nobles and Amazon. One of the things that I like about E-books is that you can create as many as you want and the more you have the more money you can possibly make.
As you can see, these ideas don't take a lot to get started. All of the ideas are different and some will be tougher to get started than others, but the nice thing is that it doesn't matter who you are, there are always people out there willing to help you. It is because of this that I highly recommend that you get out there and find somebody to help you and just get going.