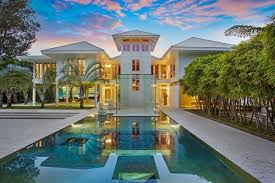 If you are considering downsizing from a luxury home to a beach-side cottage or from a large western ranch to the shores of the Pacific, you will want to make sure you get the most bang for your buck when you sell. You will have to attract the right buyer who appreciates the finer things in life that you have added to your property. You must also choose the right list price, hire a real estate agent with experience in luxury listings and negotiate wisely throughout the process. These five tips will help you maximize your selling price without settling.

Make a Good First Impression
Most buyers' first impressions will be of the outside of your home, including the landscaping. Therefore, creating amazing curb appeal will be priceless for the marketing of your home. You may want to set aside some funds to hire a professional landscaper and a professional lawn care service to ensure that your bushes and flowers are healthy and beautiful and your grass is weed-free. Keep in mind as well that numerous buyers will also be seeing your property for the first time online. Use high-quality videos and photographs to ensure your home looks its best and to give them a good idea of what it would be like to live in your home.
Stage It
Part of creating a good first impression is staging your home. While it may be uncomfortable to live in a staged home, it is an easy step to take if you have already moved out of the home. Staging is more than just cleaning and organizing your home. A professional stager will furnish and decorate your home to make it look large and luxurious and to attract the right buyer. Stagers know exactly what styles are on-trend and what most interests today's buyers.
Take Time
Remember that it takes plenty of time to sell a high-priced piece of property. If you rush through the process, you may end up attracting the wrong kind of buyer, such as someone who refuses to pay your asking price. Moreover, this can give your selling agent a negative impression of you. Try to plan your home sale with enough of a financial cushion that you have plenty of time to stage and market correctly.
Get the Right Marketing Company
Good marketing is a huge part of luxury real estate sales. Marketing for your pricey property should include more than just photographs on the realtor's Website. It should also include video tours, 360-degree photographs, high-quality pamphlets, advertising in the right newspapers and even personalized websites. A certified luxury home marketing specialist, such as Luxmark, can ensure that your home is seen by prospective buyers and can match the marketing materials to the psychology of your prime buyer.
As the economy continues to turn around, increasing numbers of people are becoming interested again in luxury listings. People want to be able to feel and enjoy the finer things in life once again, and a big part of that is the comfort of their homes. If you are trying to sell luxury real estate, be aware that you may need a good dose of patience to attract the right buyer who offers you an appropriate price for your property.